January 15, 2016
From the Holmby Westwood Property Owners Association, serving the Holmby Westwood community since 1960.
1. Ring Video Doorbell – Special Offer
2. City of L.A.Service Requests
3. Upcoming Community Events
4. HWPOA Communication and Ad Policy
5. Resident Ads
6. HWPOA Contact Information
1. RING VIDEO DOORBELL – SPECIAL OFFER
The Friends of West L.A./FOWLA is a 501(c)3 non-profit organization dedicated to supporting West L.A. schools, parks, libraries, police and firefighters. FOWLA's Crime Prevention Initiative is focused on reducing the frequency of "knock‐knock" burglaries, reducing the frequency of package thefts, creating a theft deterrent and in the event of a crime, providing the homeowners and police with a valuable crime‐solving tool – all through the wide deployment of Ring Video Doorbells.
In conjunction with FOWLA, HWPOA is pleased to offer you the Ring Video Doorbell at a deeply discounted price.
FOWLA has offered these Ring Video/WiFi Doorbells (
www.ring.com
) and HWPOA has secured 50 doorbells on a first‐come, first‐served basis at
$119 per doorbell
(FOWLA will have already paid tax). Special offer order form may be found
here
.
The retail price of the doorbell is normally $199+tax. The difference will be made up by FOWLA and through grants from your homeowner association and local companies.
The deadline to purchase a doorbell at this price is on Wednesday, January 20, 2015.
For more information about the Ring Video Doorbell, please
click here
.
SPECIAL OFFER ORDER FORM: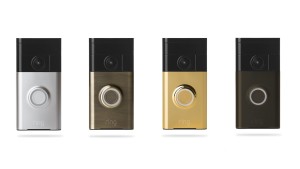 NOTE:
HOA : HWPOA
Last Name :
First Name :
Address :
Color [Qty] :
— Satin Nickel [___]
— Polished Brass [___]
— Venetian Bronze [___]
— Antique Bronze [___]
Chimes : [___]
One unit is provided at $119.
Additional units can be purchased at $129.
Ring Chimes can be purchased for $30.
2. CITY OF L.A. SERVICE REQUESTS
In addition to calling 311 to report problems or request services, you can use 311 online:
MyLA311 links Angelenos with the services and information they need to enjoy their city, beautify their community and stay connected with their local government.
The 'Submit Service Request' feature allows you to quickly and easily request the City's most popular services, including graffiti removal, pothole repair, and bulky-item pickup.
MyLA 311 can be accessed online or you may download their app to your phone or tablet.
3. UPCOMING COMMUNITY EVENTS
All of Me, All of You: Lesley Wolman in Concert
– January 28-31 at the Pico Playhouse (10508 W. Pico Blvd.). Backed by a 5 piece orchestra, singer/actress and HWPOA resident Lesley Wolman performs her newest cabaret act, "All Of Me, All Of You." Autobiographical in nature, Lesley performs love songs from The Great American Songbook, such as "Body And Soul," "I've Got You Under My Skin," "I Want To Hold Your Hand," among many others. To purchase tickets, please
click here
.
4. HWPOA COMMUNICATION AND AD POLICY
Please direct all comments, questions or issues regarding the
Holmby News
to
hwpoa@aol.com
.
Ads for plumbers, housekeepers, garage sales, etc. will be posted in the weekly News. Emergency situations such as coyote sightings, lost and found pets, traffic alerts and similar situations will continue to be published during the week as received.
When placing an ad, please send to
hwpoa@aol.com
for the
Holmby News
moderator to review. Responses to ads should be directed to the ad placer, not to HWPOA.
Our front door needs to be refinished and protected from the elements. It's stained oak veneer, and some veneer needs to be added. Please let me know if you can recommend a good re-finisher or cabinetmaker.
Thanks,
Susan Reuben
310-271-6700
I sell costume designer jewelry and evening bags at charity events and am seeking someone to assist me on a part-time basis…have fun and earn some extra income! Please call Marie at (310) 600-4726.
I am looking for a driver to drive me from Westwood to Beverly Hills to run errands. Work hours are approximately 2-4 hours per day, 1 to 5 days per week (Monday-Friday). Must have perfect driving record. May drive my car if you qualify for my insurance; otherwise may drive your own car if it is safe. Please contact Marie at (310) 600-4726.
6. HWPOA CONTACT INFORMATION
HOLMBY WESTWOOD PROPERTY OWNERS ASSOCIATION, INC.
914 Westwood Blvd. Suite 573